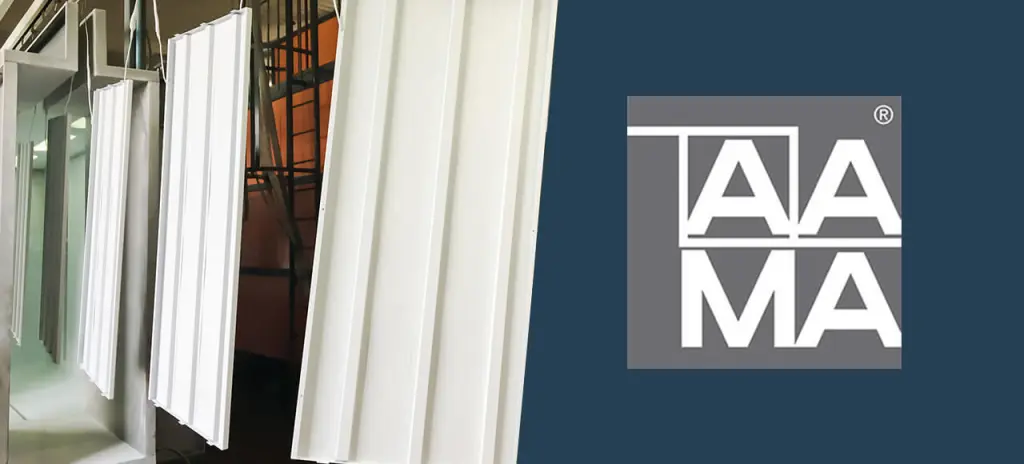 Powder coating plays a crucial role in improving and extending the life of architectural structures. It enhances the appearance of many projects, from window frames and railings to building accessories and more.
The architectural community acknowledges ratings from the American Architectural Manufacturers Association (AAMA) for testing and performance of organic coatings. Learn more about these certifications and how they compare to one another.
What Is AAMA Powder Coating?
AAMA powder coatings contain highly durable or modified polyester resins. Their specialized finishes ensure strong gloss and color retention for anywhere from one to 10 years of exposure, depending on the type.
AAMA specifications provide assistance to architects, owners and contractors. They help them specify and obtain factory-applied organic coatings, which provide and maintain a high level of performance in terms of film integrity, exterior weather resistance and general appearance over many years.
Advocating for professionals and manufacturers in the fenestration industry, the AAMA promotes quality door, window, curtain wall, storefront and skylight products. It addresses the marketing and technical needs of fenestration product suppliers, manufacturers and test labs alike. The AAMA counters regulatory issues and aims to improve material and performance standards throughout the industry.
The AAMA merged with the Insulating Glass Manufacturers Alliance (IGMA) in January 2020 under a new name — the Fenestration and Glazing Industry Alliance (FGIA). Together, these organizations work to ensure high-quality coatings and fenestration products through rigorous testing standards and specifications.
AAMA Specifications
AAMA qualification requires testing in accordance with the following criteria:
Color uniformity
Specular gloss
Dry film hardness
Film adhesion (dry, wet, boiling water)
Impact resistance
Abrasion resistance
Chemical resistance (muriatic acid, mortar, nitric acid, detergent, window cleaner)
Corrosion resistance (humidity, salt spray)
Weathering (South Florida Exposure color retention, chalk resistance, gloss retention and erosion resistance)
Comparing Different AAMA Certifications

It's important to note that not all powder coatings are created equal. The AAMA determines ratings for different coatings depending on how well they last over a specific period, evaluating factors like gloss retention, color retention and paint thickness after it dries. It also performs "accelerated testing" to assess how the coats hold up against humidity and salt spray.
Powder coating comes in one of three ratings — AAMA 2603, 2604 and 2605. Below, we explore how they compare in terms of these testing factors.
1. AAMA 2603
AAMA 2603 is considered the most basic powder coating type. Coatings that achieve their performance requirements are deemed "standard polyester coating."
AAMA 2603-rated coatings are generally used for applications like ceiling tiles and the insides of window sills. They aren't designed to withstand outdoor extremes for long durations, but they can still resist scuff marks and wear better than standard paint.
AAMA 2603 specifications are:
Color retention: The color will start to fade after about one year of use.
Accelerated testing: The paint must withstand 1,500 hours of humidity and salt spray exposure before deteriorating.
Thickness: The paint must be at least 0.8 millimeters thick after drying.
2. AAMA 2604
AAMA 2604-certified paint is considered an intermediary powder coating level. Due to its durability, it's well-suited to high-traffic areas such as storefronts, doors, windows and low-rise curtain walls.
The coating must possess the following specifications to achieve an AAMA 2604 rating:
Gloss retention: The paint must retain 30% of its gloss after five years.
Color retention: The paint must retain its color for at least five years.
Accelerated testing: The paint must withstand 3,000 hours of humidity and salt spray exposure before becoming damaged.
Thickness: The paint must be at least 1.2 millimeters thick.
3. AAMA 2605
AAMA 2605 is considered the strongest powder-coated paint on the market, offering the highest level of exterior performance. These finishes are extremely resistant to weathering, moisture and UV radiation, allowing them to withstand harsh conditions for long durations before repainting is necessary. They frequently serve applications like:
Exterior curtain walls.
Stadiums, monumental buildings and other large structures.
Building façades, windows and doors.
AAMA 2605-rated powder coatings have the following specifications:
Gloss retention: The paint must retain 50% of its gloss after 10 years.
Color retention: The paint must maintain an acceptable color change level over a 10-year period.
Accelerated testing: The paint must withstand 4,000 hours of humidity and salt spray exposure before wearing out.
Thickness: The paint must be at least 1.2 millimeters thick.
How We Achieve AAMA Qualifications
At Keystone Koating, we've successfully tested our process in accordance with AAMA 2604. We've also tested and passed the required parameters for AAMA 2605 certification.
These verifications are a beacon to architects who choose powder coating for their structures, as they can be confident in our ability to provide the most sustainable metal protection. 
We're also certified by multiple powder paint manufacturers as an applicator of their AAMA 2604-13 approved powders. Likewise, these verifications were only achievable by passing much of the same criteria as required by AAMA, as well as plant audits to verify our coating processes can deliver long-lasting performance. 

Get a Quote for High-Quality Powder Coating Services Today
If you need reliable industrial powder coating services in Pennsylvania, Keystone Koating is the place to turn. From agricultural equipment manufacturing to aluminum extrusion applications, we serve various industries with over 30 years of experience, quick turnaround times and personalized care. We can provide a sturdy finish you'll rely on for years.
Let us help you develop a cost-effective, customized solution for your powder coating needs. Get a quote from Keystone today!