Since 1986, Keystone Koating has provided advanced powder coating for customers from agricultural, medical, retail, manufacturing, entertainment, and architectural industries.
But its historical connection to other "sister companies" enables Keystone Koating to offer value-added services, such as logistics, and contract steel manufacturing.
Decades ago, its founder, Nelson Zimmerman, realized Zimmerman Cattle Control and CropCare Equipment (manufactured by PBZ LLC) needed an improved coating process. It had to be one in which higher standards were given to the pretreatment process to effectively prolong the product life of that agricultural equipment.
"We probably spent more than a year in research trying to settle on the best option for improvement," Zimmerman recalled. He met with a farm equipment manufacturer in the Midwest to study its powder coating process, talked with equipment suppliers, and attended workshops and trade events to learn about emerging powder coating practices.
"The biggest challenge getting started was learning all the unique nuances associated with the process." he said.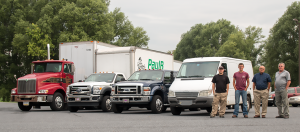 Three decades later, Keystone Koating now has two plants (one in Lititz, Lancaster County, PA, and one in Mifflintown, Juniata County, PA) and still maintains its strong connection to the steel fabricating center and it's strengthened partnership with the engineering team at CropCare Equipment, and with the logistics team from PaulB LLC. All these companies are owned by the Paul B. Zimmerman, Inc. family of companies. Because of this, cost for these value-added services can be kept lower.
Choosing Keystone Koating as your powder coater not only provides you with quality, environmentally friendly paint protection, but it also gives you access to metal fabrication, product pickup/delivery, and fulfillment.
Our powder coating firm is one of the few to achieve PCI Certification and to be named a Top Shop by Products Finishing Magazine.
In the end, this integrated approach to product fulfillment could save you time and money.