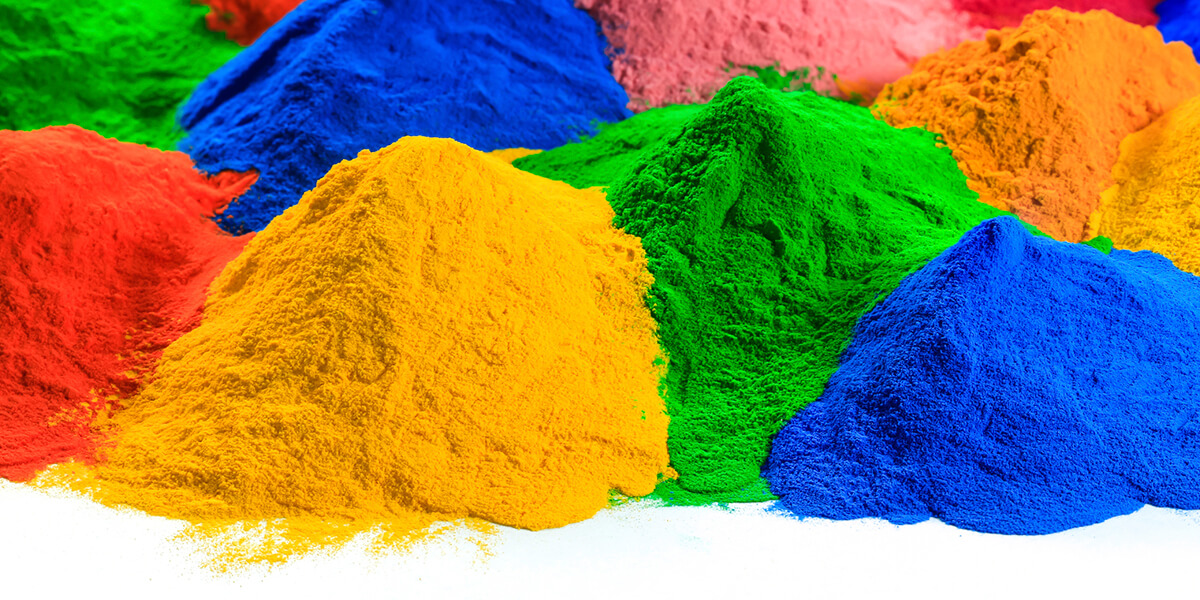 With so many colors to pick from, choosing the right powder coating color takes time. However, with some key considerations in mind, you should be able to narrow down your search and find the perfect color. Learn about your powder coating color options and what you should consider when choosing the perfect color for your needs.
How Many Colors Are Available in Powder Coat?
Can you get any color in powder coating? Yes! Virtually any color you think of is an option. There is a wide selection of classic colors from white, black, silver, beige, brown and gray for those looking for a neutral look. There are also fun, bright colors such as shades of yellow, red, blue, green, purple and more available.
Powder coat colors are seemingly unlimited. However, it is important to note that unique colors may not be readily available. Some colors may require a custom powder coating order. You can still achieve your desired look, but your project may take longer than other projects that use in-stock color options.
Color matching is also available. If you're looking for a touchup or you're adding on to previous work, color matching helps you get a cohesive and consistent design.
What to Consider When Choosing a Powder Coating Color
A lot more goes into choosing a powder coating color than you may think. In addition to selecting a color or requesting a custom color, there are other factors to consider, such as the color's gloss and texture, durability and product purpose, optional special effects, and lighting.
These factors can impact the final color and design of your powder coating and may influence you to choose a different color than you originally expected.
Gloss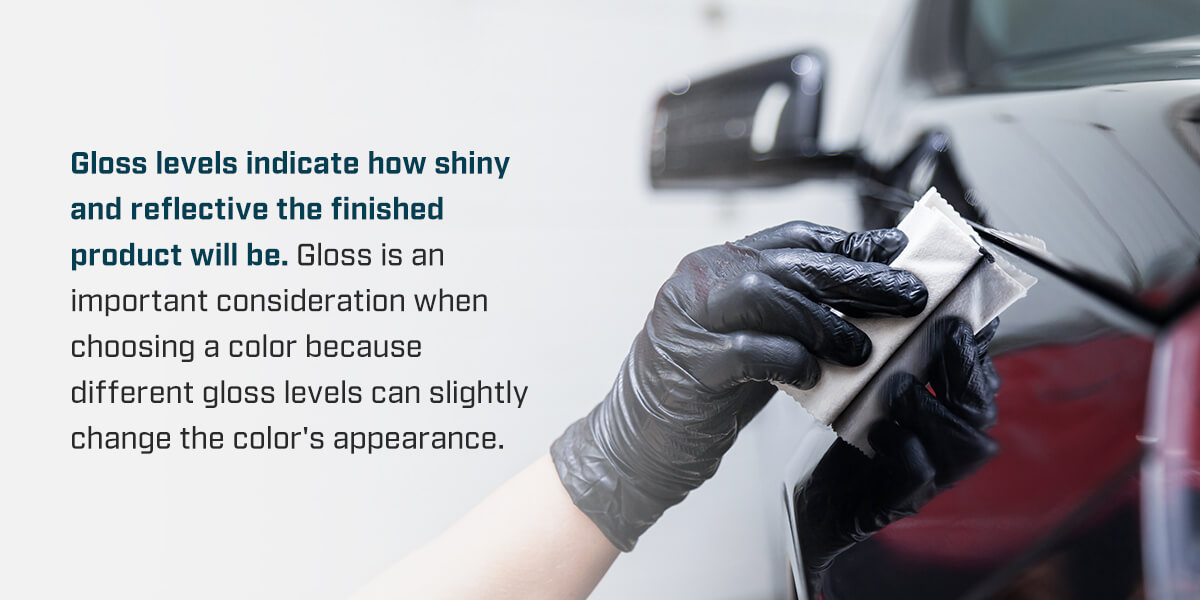 Gloss levels indicate how shiny and reflective the finished product will be. Gloss is an important consideration when choosing a color because different gloss levels can slightly change the color's appearance.
Some gloss options, such as matte, can slightly tone or dull the color down. So, it's crucial to consider how your powder coating color will appear once a gloss is applied. Gloss levels range from 5 all the way to 90. The higher your gloss level, the shinier the product will appear.
The most common gloss categories include:
Matte: Matte gloss, also known as flat, is not very reflective of light, which can tone down your powder coating color. This makes matte finishes ideal for hiding any surface imperfections. However, it is harder to clean than other options.
Gloss: As the middle ground between matte and high gloss, a standard gloss option has a nice reflection without being overly shiny. This option is easier to clean than matte finishes, and it also has less surface friction.
High gloss: High gloss is extremely reflective and shiny. As the smoothest surface, high gloss coated materials are the easiest to clean, which makes them ideal for medical and food processing industries. However, high gloss emphasizes any surface imperfections, so the material must be perfectly even and finished for the best results.
Texture
The powder coating texture you choose impacts the final design and appearance of the powder coated surface. Some of the most popular texture options include:
Wrinkled: This texture has minimal shine and feels gritty, similar to sandpaper. This type of powder coat texture is very durable, making it a great option for industrial settings. This coating can withstand daily wear or scratches and has excellent corrosion and weathering resistance.
Hammer-tone: Hammer-tone textures mimic the skin of an orange or the exterior of a golf ball. Hammer-tones are great options for outdoor furniture, architectural applications and lighting fixtures because of their modern appearance. This coating is also good for resisting minor scratches or impacts.
River vein: River vein textures require an experienced professional to apply them. This texture has small river-like channels that appear across the material. Because of these channels, this texture is ideal for two-tone configurations, but single colors are available, as well. This coating provides a unique look and is suitable for both indoor and outdoor applications.
Special Effects
Some powder coating service providers may offer additional powder coating effects. For example, metallic effects make the color change depending on where you're standing to look at the product. As you move around, the color will shift and change, creating a unique color effect.
Translucent effects may also be available. With this option, the metal is still visible through the powder coating. Translucent coatings are not limited to just clear or neutral colors. Blues, reds and other colors are also available.
Note that these special effects may not always be available. Unique and special offerings will vary by provider.
Durability and Product Purpose
When choosing a powder coating color, consider the purpose of the coating. Will this coating be in a high-traffic area that easily gets dirty? If so, darker colors with a glossy, durable, scratch-resistant finish may be the best option. Or are you looking to powder coat something that will act more as decoration than function? If that's the case, you can worry less about cleaning maintenance and scratch resistance.
At the very least, remembering the product's purpose can help narrow down your options. If you're powder coating something that needs to stand out and be easily seen, avoid neutrals or colors that blend into the surroundings. Instead, go for a bright yellow or red.
Lighting
Colors can appear slightly different depending on the lighting available. The color you see online or in-store may look different in your business due to your extremely bright or dim lighting. If possible, take a swatch with you to the exact location you plan to powder coat to see how your color choice reacts with the light. At the very least, keep your lighting in mind while selecting a color.
Schedule Powder Coating Services With Keystone Koating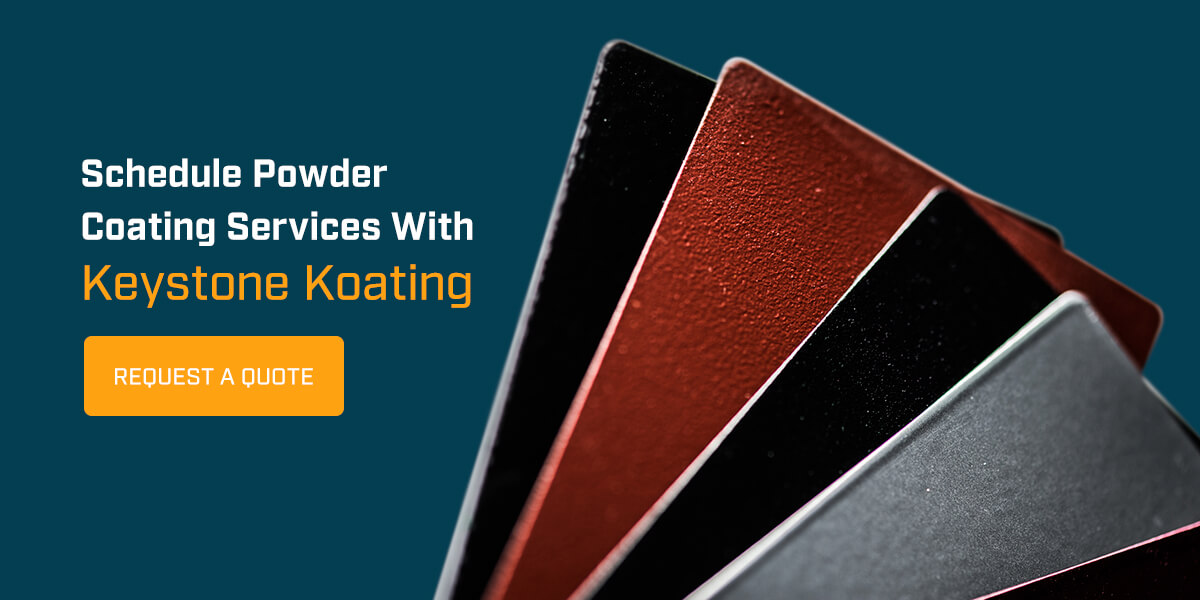 Since 1986, Keystone Koating has provided high-quality powder coating services to a variety of industries. With a wide color and texture selection, experienced technicians and start-to-finish capabilities, we're ready to help you with all of your powder coating needs.
From pretreatment to post-treatment, our team will be with you every step of the way. Our quick turnaround times, quality work and excellent customer service will give you peace of mind that your project is in the right hands.
Get started and request a quote today. If you'd like to speak to our team and learn more about how Keystone Koating can benefit your business, contact us online.