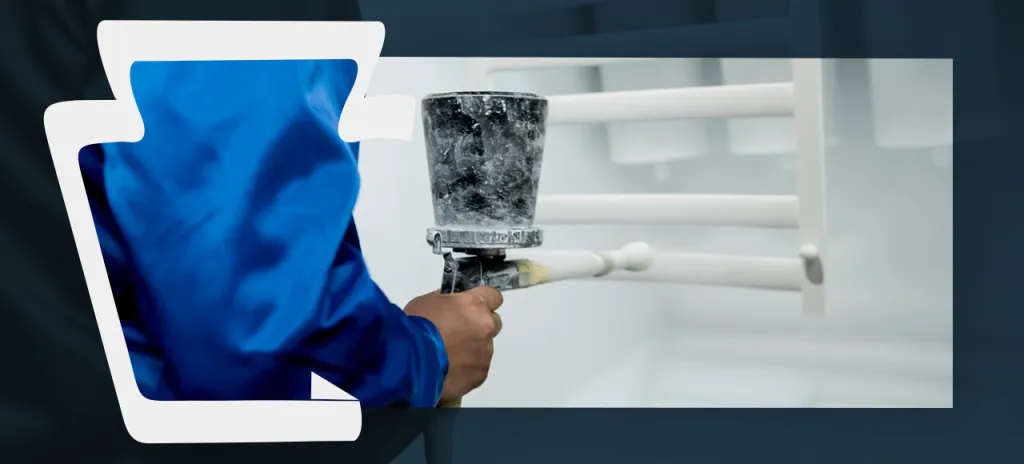 Yes, you can paint powder coatings to help repair a damaged surface. Painting a powder coat is a simple, effective way to preserve its quality or freshen up its appearance. Paint can seal chips and scratches, helping extend its performance and life span. Here are some frequently asked questions and best practices for painting over powder coatings.
How Do You Prepare a Powder-Coated Surface for Painting?
First, remove residues like dirt, grease and moisture to create a clean, dry surface. Cleaning the surface helps create a better bond with the paint. We recommend choosing a cleaner that functions as a degreaser. Depending on the object's size, you can apply your cleaner with a power washer or soft-bristled brush. Let the surface air-dry before sanding.
How Do You Sand Powder Coating?
It's difficult for paint to bond to a smooth, even powder coat. Creating a rougher surface helps improve adhesion. Carefully sand the powder coat with light-grade sandpaper, keeping the powder coating as intact as possible. After sanding the surface, use a solvent cleaner to remove lingering dust and debris from the powder coat.
How Do You Prime a Powder-Coated Surface?
You'll need to apply a quality primer before painting powder-coated surfaces. Priming the surface helps bond the material, powder coat and paint.
For the best results, choose a primer designed for the material your surface is made of. Apply a small spot of primer to the sanded surface. Wait about 20-30 minutes, then try wiping it off with a damp cloth. If it smudges or wipes off easily, there isn't enough adhesion between the surface and paint. In this case, you should return to the sanding phase and try again. If the spot remains stable, you can begin priming the entire surface.
What Kind of Paint Will Stick to Powder Coating?
Enamel and epoxy-based paints adhere well to most powder-coated surfaces. They also work well with primers designed for metal alloy surfaces. Speaking with a professional can help you determine a good paint for your application. Once you've chosen your paint, apply it carefully and evenly with a brush, sprayer or roller.
Request a Quote From Keystone Koating Today
At Keystone Koating, we specialize in high-quality powder coatings for a broad array of industries. We can provide fast turnaround times, even for large part volumes. Our eight-stage pretreatment system allows us to coat parts with high adhesion. That way, you can enjoy a long-lasting coating.
We offer custom powder coatings for numerous materials including aluminum, iron, steel and zinc. We also have many powder coating textures and colors to choose from. Turn to us for durable, cost-effective finishes tailored to your business's needs. Request a quote today!