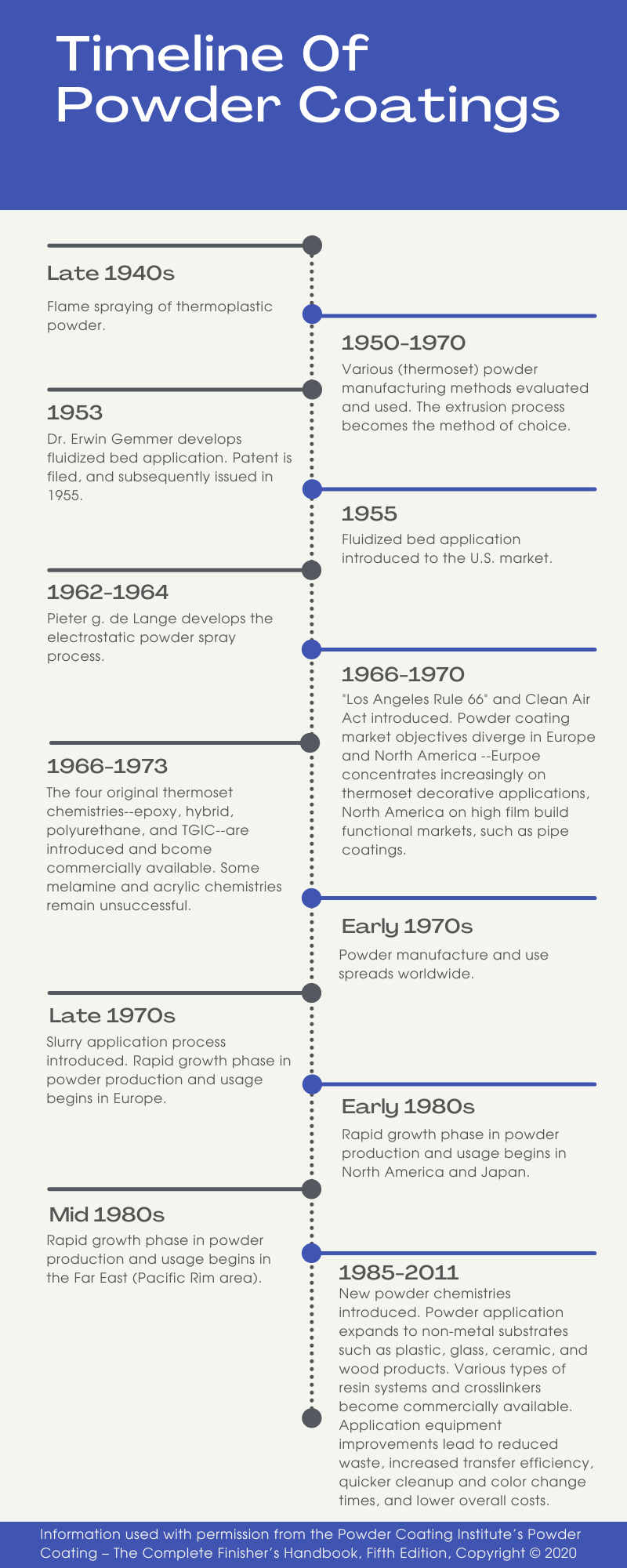 In today's industrial landscape, powder coating is one of the most popular methods for finishing and protecting a wide range of products across dozens of industries. Still, the process itself is relatively new. How long has powder coating been around, and when was powder coating invented? Check out this brief powder coating historical timeline to find out.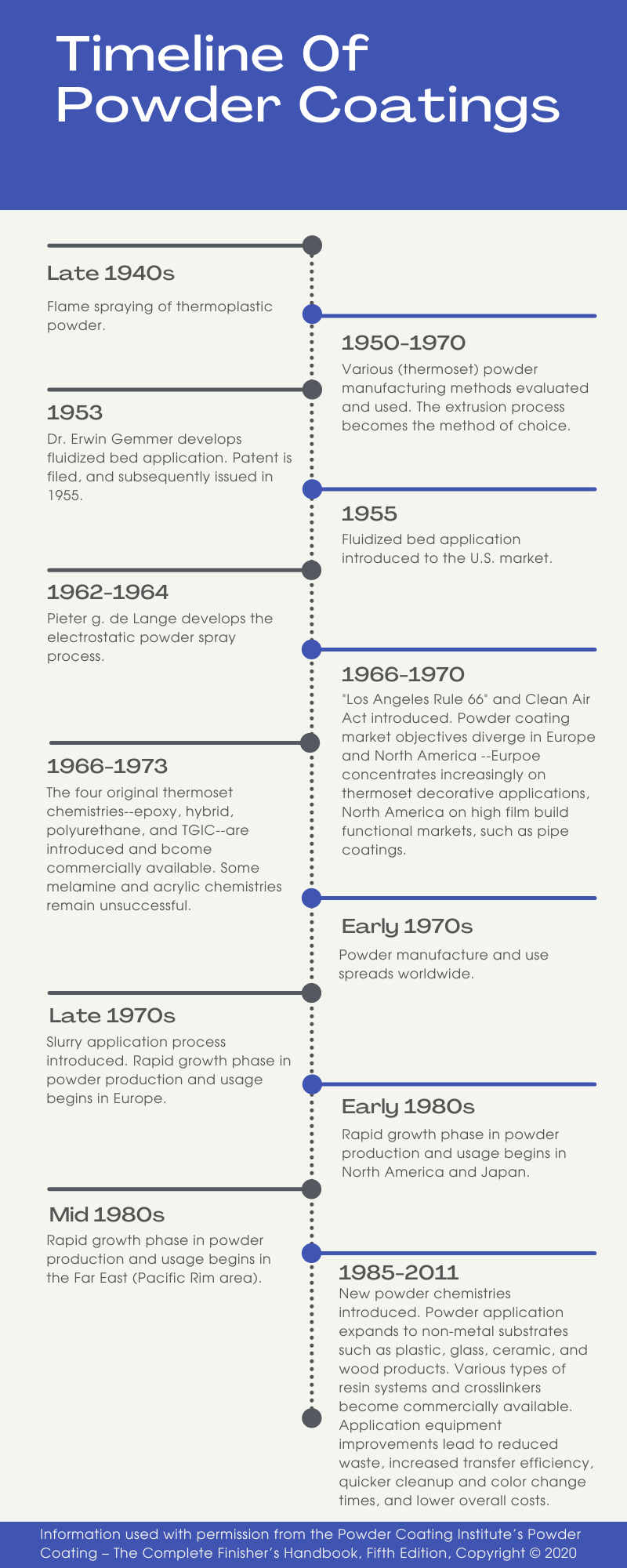 The Early Days of Powder Coating
About 80 years ago, in the early 1940s, the first form of powder coating took shape. At this time, manufacturers flame-sprayed macromolecules of organic polymers onto metallic bases. The flame-sprayer melted the materials as they were applied to the surface, creating a thermal coating.
A decade later, in the mid-1950s, a German scientist named Dr. Edwin Gemmer considered using air to fluidize powdered materials. This practice allowed them to behave like a liquid, fully enveloping and coating objects. Gemmer developed and patented his fluidized-bed process for thermosetting powder, and this methodology remained popular through 1965.
At this time, powder coating was most common for applications that required electrical insulation and corrosion resistance. These early powder coating techniques produced inconsistent coating thicknesses. That drawback meant two identical items could pass through the same fluidized bed and come out with coatings of different thicknesses. These techniques also required specific equipment that was rarely available or accessible to manufacturers in other countries.
Advancements in Electrostatic Application
In the 1960s and 1970s, powder coating techniques continued to advance because of greater demand from U.S. manufacturers. The Environmental Protection Agency (EPA) and other government organizations began passing regulations and laws restricting the number of solvents the manufacturing industry could use. Liquid paints and finishes released a significant amount of solvents, but the powder coating process involved almost none.
Dr. Pieter de Lange, a Dutch scientist, noticed the electrostatic spraying process French manufacturers had invented to spray tires with talcum powder. De Lange adapted the electrostatic sprayer and created powdered materials that could be positively charged for applications — the same process we use in modern powder coating.
Establishing a Commercial Powder Coating Company
Keystone Koating began in 1986 as a way to professionally coat the metal products manufactured by the Paul B. Zimmerman, Inc. family of companies, particularly PBZ Manufacturing's metal fabrication plant based in Lititz, Pa. As we established a reputation for quality and customer service, outside firms contacted us to powder coat their products. In order to serve our growing list of clients, we added a second facility in Mifflintown, PA, in 2005, and we have continued to grow over the years.
Continuous Process Improvements
For 35 years, Keystone Koating has applied the latest in powder coating technology. With a countless hours of real-world testing and experience, and our on-site lab, we're constantlyimproving our process. We always look for innovative ways to improve how we prepare and coat metal products. Our willingness to adopt and implement modern methods makes us a great choice for industrial powder coating services.
Powder Coating Today
After many years of trial and error with fine-tuning materials and applications, today's powder coating process is successful and pervasive in almost every industry. Modern powder coating facilities cover everything from automotive parts and household appliances to military and aerospace equipment.
Today's powder coating techniques are tried and true, allowing us to apply precise coats in various colors and finishes. 
To see what Keystone Koating can do for you, request a personalized quote. We'll respond quickly with helpful assistance, and create a custom package to suit your needs.