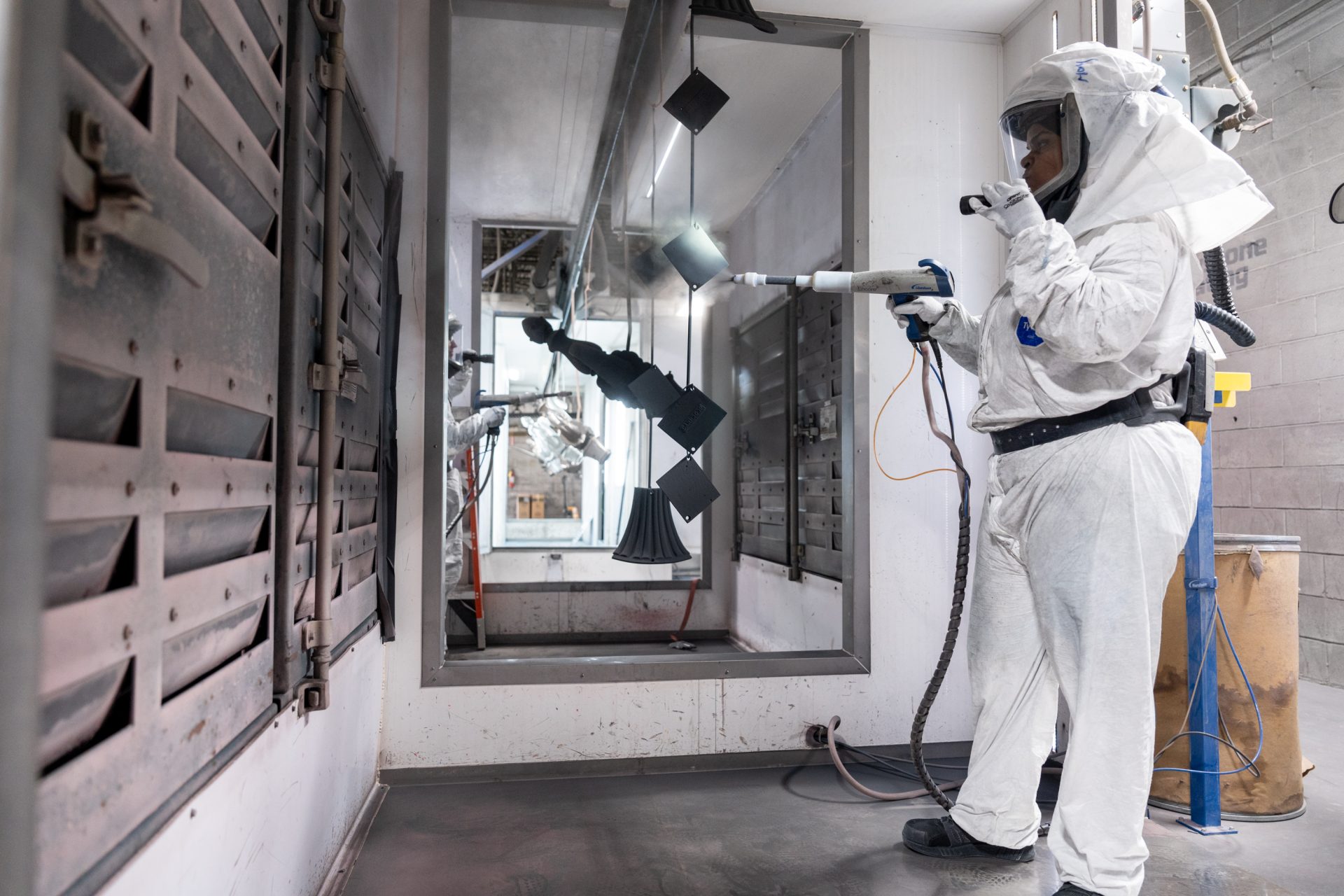 Powder coating is a dry finishing process used in various industries for its protective and decorative properties. With customizable elements such as color, sheen and texture, powder coating represents over 15% of the total industrial finishing market.
It's important to use the right type of powder coating based on the specific project. One of the several types of powder coating is epoxy. Learn more about what epoxy powder coating is, its applications and its benefits here.
Epoxy Powder Coating Defined
Epoxy coating contains epoxy resins — an organic composition of carbon chains — within the powder coating mix. The carbon chain links to elements like hydrogen, nitrogen and oxygen with covalent bonds — a chemical bonding between atoms via an electrostatic attraction.
Covalent bonded materials like epoxy have a lower melting point and conductivity, making this thermoset polymer coating hard, flexible, highly adhesive and resistant to many environmental challenges and chemicals. It's these unique characteristics that make epoxy ideal for functional coating to protect various industrial equipment, machine components and appliances.
However, epoxy powder coating is not ideal for exterior environments with ultraviolet radiance exposure, as this will cause chalking of the coating.
What Is Epoxy Powder Coating Made of?
Epoxy powder coating mainly consists of six ingredients:
Epoxy resin: This is created through polymerization or combining a catalyst with resin hardeners.
Curing agents: These solidify the coating to increase its durability.
Additives: These offer various functions, from creating a hardened finish to reducing surface tension.
Post additives: These are added after the powder hardens to prevent it from caking.
Tint pigments: These provide the color present in the coating.
Extenders: These are known as fillers and provide an extra layer of durability while reducing glossiness.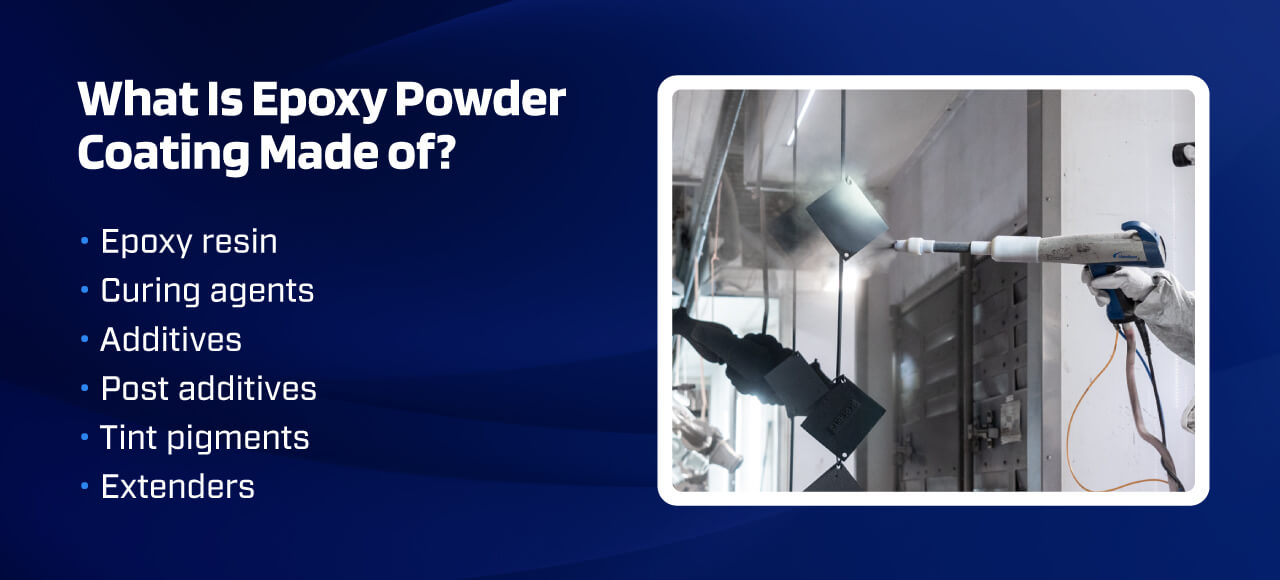 The Process of Making Epoxy Powder Coating
Making epoxy powder coating requires several steps. First, heated epoxy resin is charged from a reactor to a cooling steel belt. After it solidifies, a device crushes and grinds the epoxy into tiny flakes. These flakes are added with curing agents, additives, post additives, tint pigments and extenders in extruders at an elevated temperature and pressure. The amount of ingredients depends on the application's specific formulations. After the blend cools down, the mixture is milled to its desired particle size.
Powder coatings are applied to surfaces with a powder spray gun. As the powder passes through the gun's spray head, it becomes electrically charged. The "earthed" metal component that undergoes powder coating acts like a magnet, thus ensuring the powder distributes and adheres uniformly to the surface. After the coating process, the metal is placed into an oven where the powder coating melts and reacts to solidify. When the powder coating hardens and cools down, the finished coating stays on the surface.
The Main Uses of Epoxy Powder Coating
Because it's resistant to harsh chemicals and corrosion, epoxy powder coating is ideal for a variety of products in multiple industries:
Appliances: Household goods, such as washing machines, dryers, microwaves, refrigerators and stoves, frequently come in contact with water and cleaning products. As a result, they receive epoxy powder coating in combination with polyester resins, titanium dioxide and barium sulfate to give them their long-lasting white appearance.
Automotive items: The industry uses powder coating as both a base coat and a finish, especially with underbody and under-hood parts that experience heat, stress, corrosion, and elemental wear and tear.
Construction: Steel rebars, pillars and poles that are used in structures, as well as hand and power tools and wires, are coated with epoxy powder.
Industrial furniture: Epoxy powder coating can protect industrial furniture, like metal cabinets, hardware features and even toolboxes, from exposure to cooling, lubrication and cleaning.
Marine structures: The anti-corrosion properties work well for underwater structures and vehicles, such as marine vessels.
Medical equipment: Staff use hospital beds, examination tables and equipment stands on a regular basis, which can be protected from long-term use with epoxy powder coating.
Plumbing systems: Plumbing systems with epoxy-based powder coating are corrosion-resistant.
Public transportation: As bars and handles inside buses and trains are more prone to wear and tear from people's touch, adding epoxy powder coating can help protect these parts and preserve their color.
Sports equipment: Epoxy powder coating can protect sports and recreation equipment from long-term use.
Vending machines: People use vending machines many times a day, so they often come with a protective epoxy powder coating around the panels and components to increase their life span.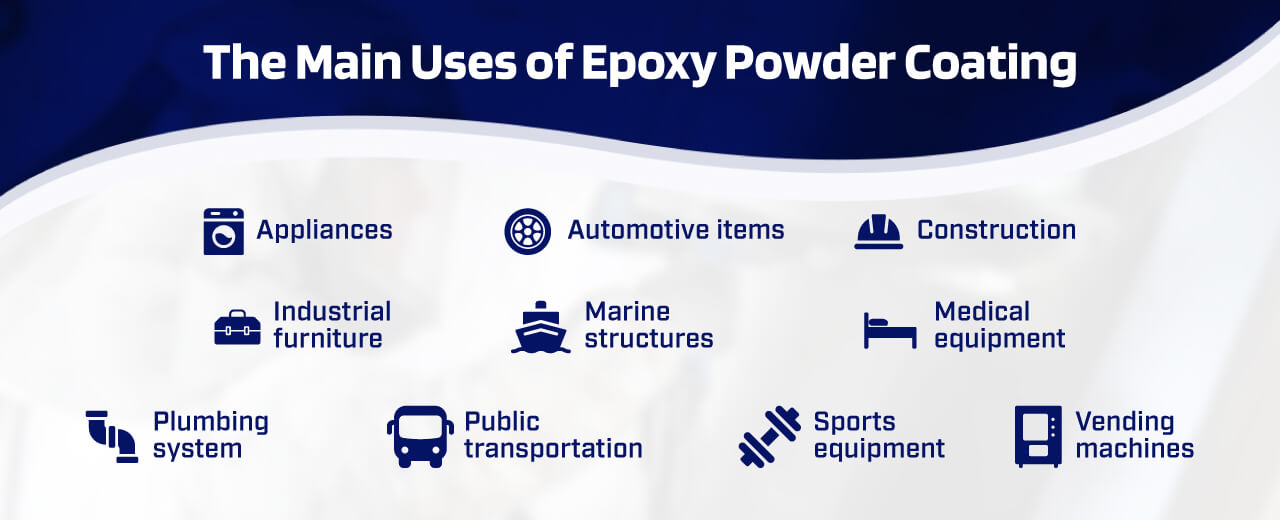 Safety and Benefits of Epoxy Powder Coating
Is powder epoxy coating safe? While workers can safely minimize their exposure to epoxy resins in the manufacturing process by using personal protective equipment, the final cured, hardened product of epoxy powder coating is safe and does not produce any toxic vapors or particles that could affect users. Another advantage is that any powder left over from the coating process can be reused.
The powder coating industry is always looking for ways to create eco-friendly epoxy resins using bio-based components, helping multiple industries meet the increasing demands for sustainability.
Epoxy powder coating offers several other benefits, including:
Long-term uniform and durable protection, especially for metal
Extended product life
Reduced maintenance and replacement costs
Strong adhesion to structures, especially with pretreatments
Great resistance and barrier to corrosion and many chemicals
Flexible and wide range of cure schedules
Resistant to impact and abrasions
Greater insulation against electricity and a wide range of temperatures
Fast and inexpensive lamination process
Enhanced aesthetics with a wide range of colors, increasing product value
Higher efficiency than conventional liquid coatings
Faster cleanup procedures and reuse of powder coating equipment
Epoxy Powder Coating Solutions With Keystone Koating
At Keystone Koating, we provide commercial powder coating solutions, including epoxy powder coating, customized for your project needs. We have two locations in Pennsylvania that support three automated powder coating lines and three batch systems. This enables us to process all your orders in short turnaround times or perform minor assembly tasks.
For more information about our powder coating services, get in touch with our team, or fill in our online form to get a quote for your project!